How to prevent and deal with stress?
Happy is a day, unhappy is also a day! Why don't you just be happy everyday?!
What is stress? What does stress (pressure) make you feel? Is it will make you feel down or other? Stress is a physiological response to challenges. I think sometimes a little bit of pressure is good. For example, when I have some speech and most people are better than me, I will feel very stressed. Most of stress come from other people give you, but some of stress come from ourselves.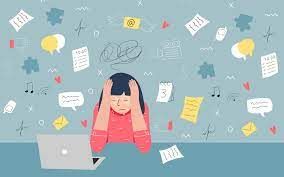 How can we handle stress? For me, the best way to handle my stress is music. Basically music can solve all my problems, whether it's listening to music or playing instrument. Here I list some method that I think may can handle stress.
Eating and drinking
I think Eating and drinking won't make you getting fat is the wish of all girls, but when you are under a lot of stress, is there anything more important than relieving the stress? If eating can make you less stressed, just go for it.
Do anything you like
I know that the way for many people to relieve stress is stay alone and do what they like. I not going to say this idea is bad, but sometimes we need other people to help you, if you stay alone for a long time, you will complain, and the pressure will increase
Sleep
Someone said: wash and sleep, there is everything in your dreams. This sentence is correct. Sleeping can indeed make us forget many unpleasant things, and it can also make us relax our emotions.
How did you feel stress now? Are you still feeling stress is bad or? Actually, I was scared stress, because I don't know how to handle stress before, and that waste a lot of my time. I could take that time to practice the instrument to become a better self, but I wasted it. It makes me regret.
In general, when you are stress, do what you want to do to relax the pressure. Everyone has their own way to relieve stress. Maybe you like to go to sleep, maybe he likes to read, or maybe she likes to eat.
Like my work?
Don't forget to support or like, so I know you are with me..