The Top 10 Reasons to opt for Fake Plants Over Real Ones
Faux trees and flowers are the best choices if you want low-maintenance. Fake plants have many advantages over natural ones, and some of these are listed below.
Artificial plants are making their way into both indoor and outdoor spaces today. The homeowner can opt for artificial plants that are designed, shaped, and painted to look like real plants.
Faux trees and flowers are the best choices if you want low-maintenance, durable plants. Fake plants have many advantages over natural ones, and some of these are listed below.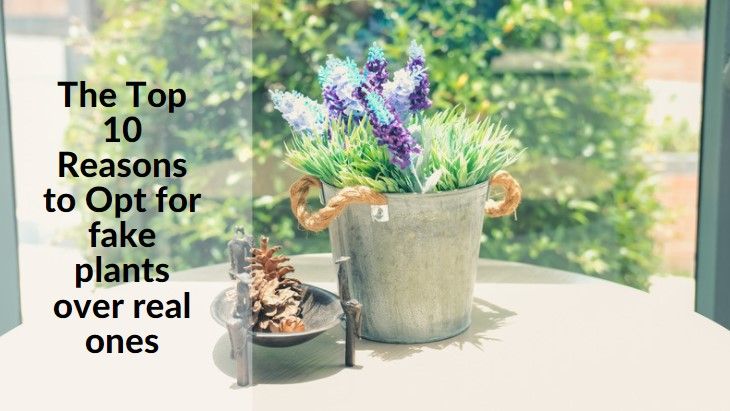 1. No Seasonal Changes
Avoid seasonal plant changes with seasonal allergies and enjoy the same level of maintenance as a fake plant (none) all year. Even if you enjoy taking pleasure in meditative tasks like turning soil and repotting, save yourself some time and money by including a fake or two into your botanic routine.
2. Their appearance remains the same
Imagine how wonderful it would be if your plants consistently brought you joy by always being in the same happy, pristine condition as when you acquired them.
3. Requires less care
With the exception of a quick dusting every once in a while, fake plants require no maintenance, whatsoever. If you live in an apartment, imagine a life that does not require you to take all your plant babies into the tub to take a "shower." By going fake, you'll have more time to relax and enjoy your flora friends.
4. Durable
Even the strongest of leaves can bend and break (and that's nature!). But fake leaves are virtually indestructible; they are the stronger sister of the natural version and equally as beautiful. A fake's durability also means you'll need to buy (and toss) a whole lot less over time.
5. No risk of pests
No matter how you look at it, plant pests have no upsides, especially when it comes to potted pieces that live in your home. Small artificial plants will bring you nothing but joy and eliminate the need to use insecticides.
6. Pet-friendly
Fake plants suppliers and vendors offer a collection of fake plants that are 100% safe for your pets, unlike so many live plants that are toxic. Feel free to buy as many Fiddle Leaf Figs as you can fit in your home.
7. Better for far-reaching spaces
It is ideal to use fake plants in places that are difficult to access, like narrow nooks and skyscraper-tall shelves. Put the fake on the top shelf instead of pulling out your step stool, removing furniture or objects that are usually in the way, and balance on one leg to reach your Pothouse.
8. No light required
In contrast to their organic counterparts, small artificial plants require zero sunlight, yet pack the same punch as their organic counterparts, making them ideal for sunless corners, which are often the corners in your home that need the most greenery.
9. All the beauty, none of the maintenance
Plants look healthy and thriving without the hassle of regular care. The cool boldness of a Rubber Tree and the vibrant colors of fake plants don't have to be pruned, watered, or repotted.
10. A key aspect of any room's design
Plants contribute lightness, warmth, and style to a room like no other, except for well-made fake plants. They provide an organic anchor to a space and provide the perfect architectural element. No matter how you design, green is universally chic. Plants are always a good, and stylish, idea.
Looking for high-quality fake plants for your house?
These were a few reasons why you should go for fake plants. If you want to add some greenery to your house with fake plants, visit Designer Vertical Gardens and choose the best fake plants that catch your eyes. They have a wide range of fake plants products you can choose from. Place an order with them and spruce up your home with their fake plants.
Like my work?
Don't forget to support or like, so I know you are with me..