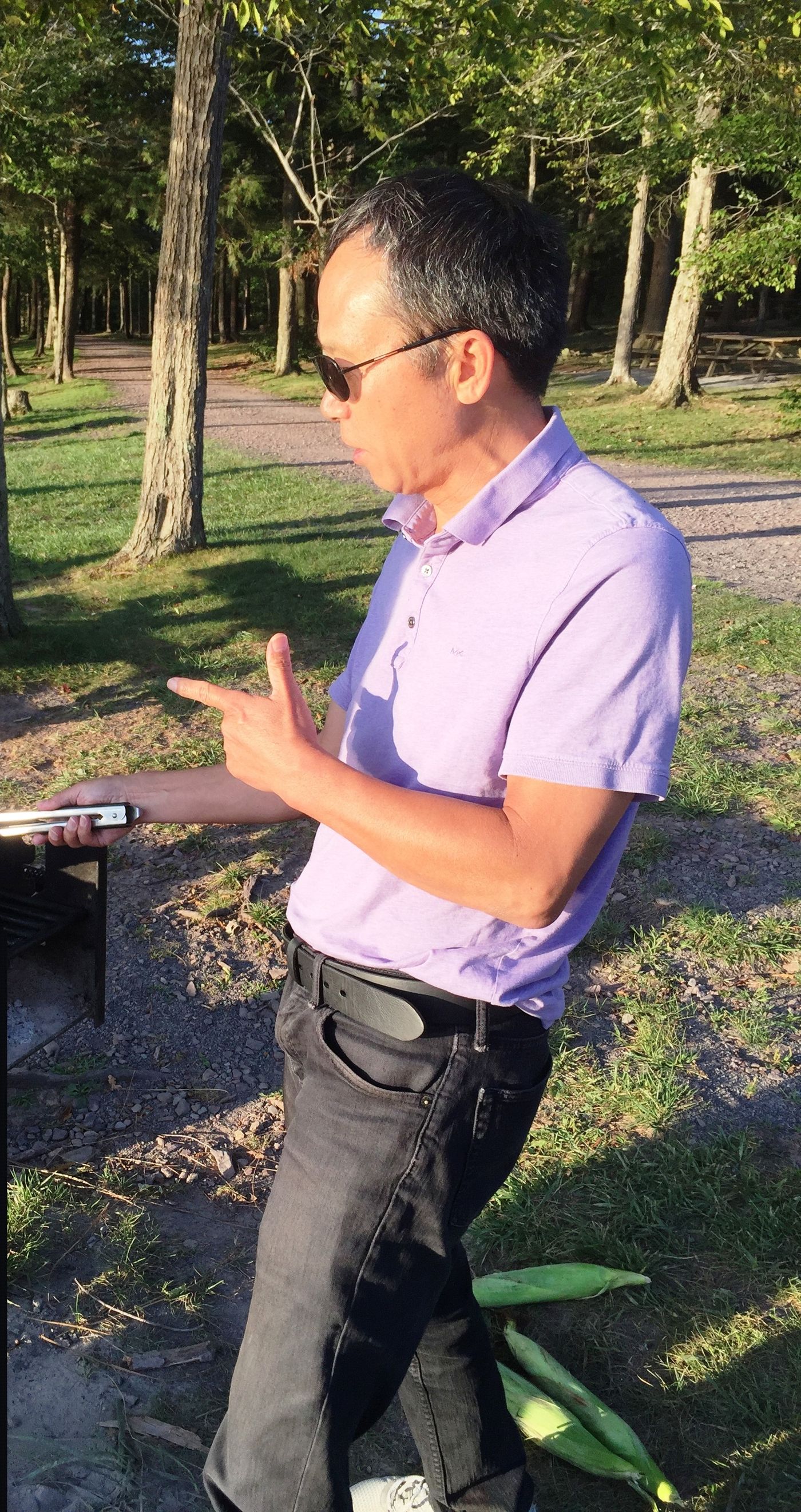 多年中国执业律师,太平洋智库创建人、CEO,中国、两岸、美中问题研究
Genocide? Crimes against humanity? Hoax of the century? Farce of the world?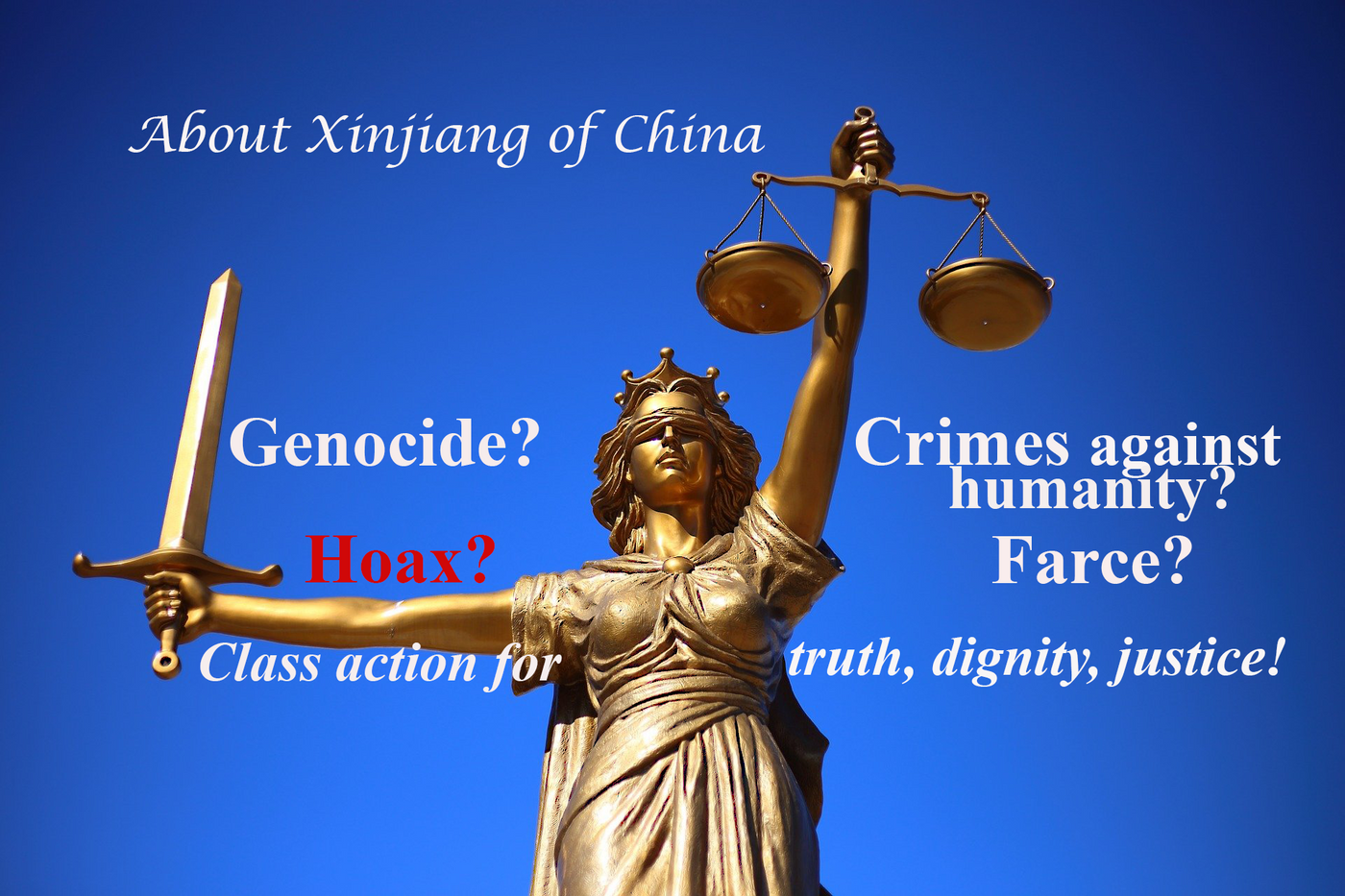 https://gofund.me/87f87bda
Litigation for truth, dignity, and justice!


Against racial discrimination, hatred, and violence!


Please support and participate class action!
(后附中文)
The progress of mankind lies in cooperation and competition. Serious misunderstandings and conflicts between the United States and China not only harm the benefits of people in two countries but also affect those of the world. The tragedies of the Korean War and the Vietnam War are vivid. The 15-years-old girl being deceived in the Gulf War, the big lie in the Iraq War - these lessons are still fresh in memory.
The U.S. government claimed genocide and crimes against humanity in Xinjiang, and six parliaments followed behind,G7 calls out China over Xinjiang. These have caused racial discrimination, hatred, and violence. Some people have a bit of the excitement of the crusade and Thirty Years' War in Central Europe.
The United States EU and China imposed sanctions on each other. Many countries were involved, and the world was divided and opposed. Speaker of House Representative, Nancy Pelosi, called for a "diplomatic boycott" of the 2022 Beijing Winter Olympics. The U.S. Congress held hearings about China, Genocide and The Olympics. The Chinese government protest: "This is the most preposterous lie of the century, an outrageous insult and affront to Chinese people, and a gross breach of international law and basic norms governing international relations." The two countries are antagonistic. There are calls for a stop to World War III. Some western media and NGOs have reported that Xinjiang had systematic and widespread crimes of human rights violation, including forced organ harvesting, homicide, intentional injury, illegal detention, rapes, torture, forced labor, forced sterilization and contraception, violent interference with freedom of marriage, mass separation of children from parents that Involved more than 20 kinds of crimes in the Chinese criminal law.
Who is telling a big lie? Why is that?
What are the serious consequences?
Pacific Think Tank is the abbreviation of Pacific Research and Education Institute Inc established in 2017. It is an independent, non-partisan public policy research institute engage in China, The United States, Taiwan, and education and has obtained a non-profit organization status 501(c)(3). Mr. Chen Bing is the founder. He had run an enterprise engaged intellectual property and human rights lawyer in China before coming to the U, who has in-depth observation and research on Chinese society. It is normal for people to have different views and even critiques on China's Xinjiang Policy and implementation. However, it is unacceptable to use human empathy to fabricate truths and deceive people. Our research has found relevant news, reports, the government claimed genocide and crimes against humanity in Xinjiang that no information about the perpetrators, and testimonies of the so-called victims and witnesses were contradictory, pornographic, absurd, and obviously false. Some people are still playing with UYGHUR TRIBUNAL in London, and the statements and hearings are full of absurdity and lack of common sense. No crime without a perpetrator. Such inferior deception has fooled so many people of the world? Very simply, shocking! Hard to understand!
We have sufficient evidence and in-depth research to believe that the so-called genocide and crimes against humanity are hoax of the century and international farce that was planned and directed by some people! It is severe destruction to the values and systems of freedom, democracy, and the rule of law. It is also a serious strike to the credibility and influence of the U.S.
Regardless of Trump, the Biden administration, related media, many journalists, researchers, experts, scholars, professors, doctors, politicians, and lawyers involved in it. Related personnel neglected, misconduct, or lacked rigor and professionalism. The fundamental reason for the event is that they do not understand history, culture, society, legal environment, the complexity of China, don't grasp the key issues, lack of analytic judgment and political ideology solidification, too clever, hold on to one's opinion. However, the trick is another matter. On February 8th, we decided and prepared for a public interest lawsuit against the U.S. government and related media which violated the U.S. Constitution and laws and constituted defamation. We requirements them to bear legal responsibility, and relevant government decisions and bills are revoked.
If crimes of serious violations of human rights in Xinjiang are true, the relevant defendants should disclose the information of perpetrators, time, location, evidence of the crimes. We have organized a Chinese lawyer team to provide legal aid to the victims and send the suspects of the crimes to Chinese courts to demonstrate justice. "Victims and witnesses" are welcome to testify in court. They should understand the criminal liability of false testimony.
We have drafted a lawsuit and welcome individuals and companies who are deeply disturbed, troubled, injured or sanctioned by the so-called human rights violations in Xinjiang, and Beijing Winter Olympics supporters to participate in this class action. It is internationally significant and complex litigation. We will hire a team of professional American and Chinese lawyers, which very costly. We ask you to support our litigation and research on public policy and education.
This is a matter of fact and law. It concerns the dignity, justice, and rule of law of the American people, the Chinese people, and the people of the world. Human feelings and intelligence cannot be trampled on.
We use legal means to debunk the scam and put an end to the farce. Victory must belong to the people who pursue the truth, defend justice. We pursue world peace, progress, goodness, and common prosperity!
We are creating and changing history!
Thank you for your participation, support, attention, and forward this message!
Chen Bing researcher and CEO of Pacific Think Tank, contact email: [email redacted]
关于中国新疆问题
种族灭绝? 反人类罪?
世纪骗局? 国际闹剧?
诉讼为真相、尊严、公正!
反对种族歧视、仇恨、暴力!
请您支持、参与集体诉讼!
人类的进步在于合作与竞争,美中重大误解、冲突不仅损害二国民众利益,而且关系世界人民的利益。韩战、越战的悲剧历历在目,海湾战争中15岁的女孩欺骗,伊拉克战争中的系列谎言,教训记忆尤新。
美国政府认定新疆存在种族灭绝、反人类罪,多国议会紧跟其后,西方七国首脑呼吁新疆问题。这些引发种族灭绝歧视、仇恨、暴力,有人有点十字军东征的兴奋与中世纪三十年宗教战争的激情。欧美与中国相互制裁,多国卷入其中,世界因此分裂、对立。众议长南希•佩洛西呼吁通过外交手段抵制2022年北京冬奥会。美国国会举行"中国的种族灭绝与奥运会"听证。中国政府抗议:"这是荒谬至极的世纪谎言,是对中国人民的极大侮辱和侵犯,也是对国际法和国际关系基本准则的严重践踏。"二国实际处于敌对状态,人们呼吁阻止第三次世界大战。一些西方媒体、非政府组织报告宣称新疆存在系统、广泛的侵犯人权的犯罪,包括器官活摘、杀人、故意伤害、非法拘禁、强奸、刑讯逼供、强迫劳动、强迫绝育和避孕、暴力干涉婚姻自由、小孩大规模与父母非法分离,涉及中国刑法中二十多种罪行。
究竟谁在扯弥天大谎?这是为什么?会产生什么严重后果?
太平洋智库是2017年创建的太平洋研究与教育学会的简称,是独立、无党派的公共政策与教育研究机构,从事中国、美中、台湾、教育等问题研究,取得非营利组织501(c)(3)。陈冰先生是太平洋智库的创建人,来美国发展前在中国经营企业,同时从事知识产权、人权律师工作,对中国社会有深度观察研究。人们关注中国新疆政策有不同看法、甚至批评都是正常的,但是,弄虚作假,利用人们的同理心,编造事实,欺骗、戏耍人们是不能接受的。我们研究发现所谓新疆种族灭绝、反人类罪的相关新闻报道、研究报告、政府认定中没有任何具体犯罪作案者的信息,所谓受害人、见证人的证词前后矛盾、色情、荒唐,明显虚假。有人还在伦敦玩"维吾尔特别法庭", 其声明、听证荒唐、缺乏常识。没有作案者没有犯罪,如此低劣的骗术,忽悠了世界如此多的人?非常简单,非常令人震惊,难于理解!
我们有确实充分证据研究认为:所谓新疆种族灭绝、反人类罪是人为策划、导演的一场世纪骗局与国际闹剧!这是对自由、民主、法治的价值、制度的严重挑战,更是对美国信誉与影响力的严重打击!
不论是特朗普、拜登政府,相关欧美媒体, 还是卷入其中的众多记者、研究人员、专家、学者、教授、博士、律师、政客,相关人员渎职,缺乏严谨、专业性与分析判断力。根本原因是他们不了解、理解中国的历史、文化、社会、法律的环境,中国问题的复杂性,也抓不住关键问题 ,缺乏分析判断力,政治思想固化,太聪明了,也太固执己见。恶意为之者,另当别论。二月八日,我们决定就新疆问题公共利益诉讼,起诉美国政府及相关媒体等,违反美国宪法、法律并构成诽谤,要求承担法律责任,相关认定、法案应当撤销。
如果新疆存在严重侵犯人权犯罪是真实的,相关被告应当公开作案人、时间、地点及其相互犯罪证据,我们组织的中国律师团队随时准备为受害人提供法律援助,把所有犯罪嫌疑人送上中国法庭,彰显正义!
欢迎"受害人、见证人"到法庭作证,他们应当明白虚假指证的刑事法律责任。
我们已准备起草了诉讼状,欢迎所有受新疆所谓严重侵犯人权犯罪问题困扰、伤害、制裁的个人、公司,北京冬季奥运会的支持者参与集体诉讼。这是国际重大、复杂诉讼,我们将聘请美中律师团队,要花费巨大,请求大家支持我们发起的集体诉讼,公共政策与教育研究。
这是事实真相与法律问题,事关美国人民、中国人民、世界人民的尊严,公正、法治,人类的感情与智商不容任意践踏!
我们用法律的手段击破这个欺局与闹剧,胜利一定属于追求真相、捍卫公正的人们,我们助力世界和平、进步、良善、共荣!
我们在创造、改变历史!
谢谢大家的参与、支持、关注、转发!
陈冰
太平洋智库研究员、CEO
Like my work??
Don't forget to support or like, so I know you are with me..