慈濟宮簷下的廖添丁 Little Bandit statue under the roof of Goddess Mazu Temple at Fengyuan ,Taiwan
慈濟宮簷下的廖添丁 Little Bandit statue under the roof of Goddess Mazu Temple at Fengyuan ,Taiwan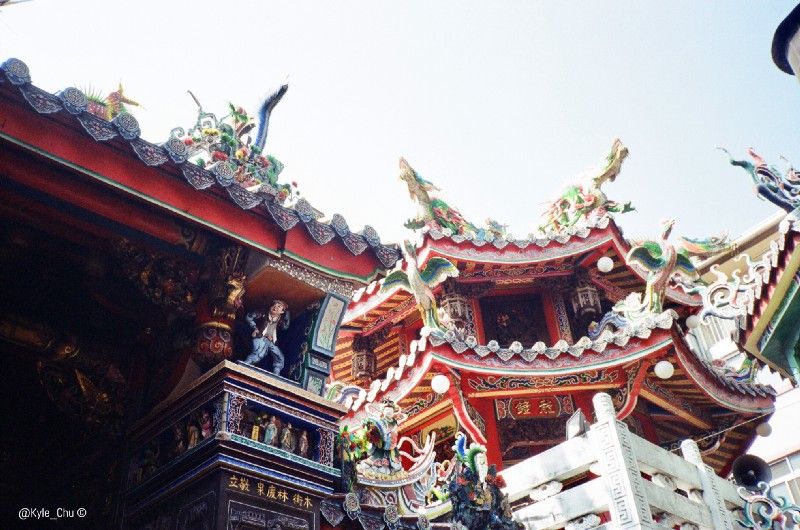 Konica 現場監督 35WB + Kodak ColorPlus 200

大學聯考前,下午偶爾會去一家小店吃刨冰,老闆每次都把吳樂天講廖添丁故事的廣播開到最大聲。
My high school classmates and I liked to go to a sweet ice shop for sweet ice before the university entrance examination in 1980's. There was always a loud voice from an old radio telling the story of legendary bandit Liao Thiam-teng in this sweet ice shop at lunch time.
後來有一次晚上去吃冰,還是聽到廖添丁講古,跟我去吃冰的同學問老闆娘:「啊歹勢,頭家娘你這哪會整天都聽到廖添丁。」,冰店老闆娘笑笑:「啊就,我們頭家愛聽,廣播聽、錄音錄下來聽,我開電視都被他把聲音禁掉,我們這就是添丁冰館啊。」。
Once we went to the sweet ice shop after dinner time. And the sound of bandit story radio drama still ran through the small shop.
One of my classmate asked wife of the shop owner :"Why we hear the bandit radio drama all day long here?".
She smiled :"That's my husband's favorite. You just couldn't stop him from listening to these bandit stories tapes. If I turned on TV,he would turn down the voice of TV to make sure he could listen to the sound of the bandit stories tapes.".
多年後,整理豐原媽祖廟底片,發現慈濟宮屋簷下有個廖添丁像。
I found out a film about Goddess Mazu Temple at Fengyuan and there was a photo showed a little Bandit statue under the roof of Goddess Mazu Temple at Fengyuan.
那家冰店早就不在了,不過我想:傳奇俠盜與媽祖一起守護豐原,老闆一定開心。
It reminded me the sweet ice shop which was long gone for years.
But I think owner of the sweet ice shop would be happy to see his idol the legendary bandit watching over the city with Goddess Mazu together.
Like my work?
Don't forget to support or like, so I know you are with me..