Case Study: When FC Barcelona Says Farewell to Messi
A simple analysis on football club management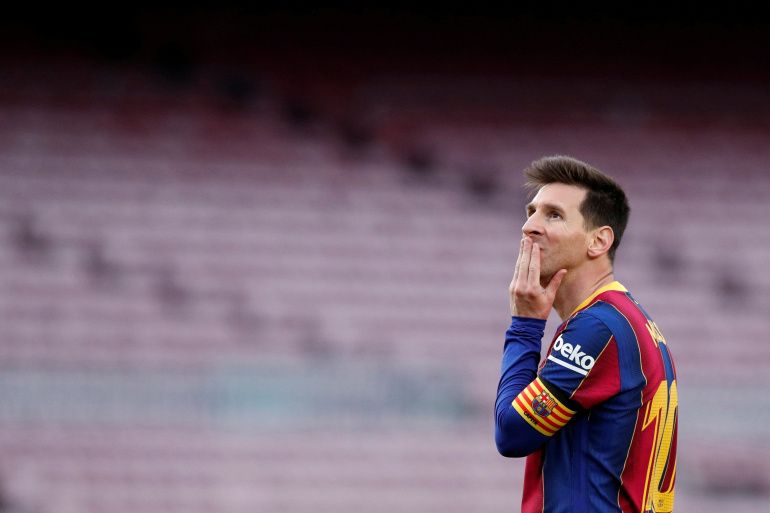 Today's headline in all sport news is probably the farewell of FC Barcelona to one of the greatest football player of all time, Lionel Messi.
My Messi fan story
I'm a bit of Messi fan ever since I watched his game at Barcelona's Camp Nou stadium 10 years ago. It was the first night that I flew to Barcelona from London. I bought myself a €100+ ticket to the 11pm final game of Supercopa de España (the Spanish Super Cup). Don't know if it was Messi's incredible passing and shooting skills, or the excitement in the air from Barcelona fans' shouting against Real Madrid, I was totally blown away by Messi that evening.
For me, Messi is Barcelona, and Barcelona is Messi; so it's particularly hard to wake up to the shocking news this morning. Was in a denial mode all day even after watching FC Barcelona's president Joan Laporta explaining the decision in the press conference (a recording with live English translation can be found here).
The Barça drama
I happened to be practicing case interviews for MBB a couple months ago. It's amusing to find similarity between some cases I read and what happened to the football club in reality.
Disclaimer: I am not a big football fan who follows every game, so bear with me if what I write below is with minor mistake.
To begin with a case study, we need to first understand the stakeholder. In today's story, there are 4 parties here.
Messi, the impeccable football player we all love
FC Barcelona, the football club that cultivated Messi when he's only 13
La Liga, the top Spanish football league with 20 teams under its wing
CVC, a Private Equity firm that offered a €2.7bn ($3.2bn) investment in return for a 10% stake in revenue cut from La Liga, including the audiovisual right for the next 50 years
Next, we need to find out the objective for the stakeholder. Let's see if we can create a quadruple win for all.
For Messi, his history with Barcelona goes way back. He thanked the club for the development all these years, and was even willing to take a 50% salary cut in order to stay in the club.
The rest 3 parties all have financial goal at heart. Both Barcelona and La Liga are suffering from revenue loss due to COVID, but Barcelona is under more pressure. It pays players big bucks with installment salary, which became a total burden when no cashflow coming in.
CVC, on the other hand, aims to general cash for its investors and consider payback period of its investment. As La Liga reported a €3.4bn ($4.3bn) combined revenue prior to pandemic time, CVC is looking at a payback period of roughly 8 years, which is within the average line of PE business. Plus, there reportedly to be another company set up for commercial activities revenue which CVC can take another 10%. Moreover, with a $163bn committed fund, CVC only needs to invest 2% of its capital.
It's a bargain deal for CVC for sure. The PE firm will only gain if it can successfully close the deal. And that leads to essence of the case study, the solutions that can make everyone happy.
Before I begin with the solution part, let me share another case, Arsenal from Premier League.
Arsenal and its grand Emirate Stadium
Arsenal, the champion of English Premier League in 2003/2004 season, had a famous story with its stadium.
The reason why I am bringing it up is because I only learned today that the stadium story was so much like a case I did for an Italy football club. It was a partner round case and the solution seemed to contradict to its real life example Arsenal.
The case went like this: an Italy football club was suffering from financial losses and looking for a quick fix. My analysis was to simply break its profitability performance into different revenue and cost factors and see where I could improve the status quo.
The revenue of a football club is generally coming from 5 sources: broadcasting (50%), player transfer (20%), merchandise (10%), tickets (10%), and sponsorship (10%). I immediately came out with numerous ideas of how to improve players' performance and in return generating more cash for each category, but my case partner rejected all the proposals as "a consultant wouldn't be able to advise on the client's core business".
While the core business (winning the game) should be left with the capable hand of the expert in the field, what I could do was to look at the non-core area. And the hidden issue turned out to be the club's recent construction project of building its own stadium. The cost was too high that the club had to sell players and hence jeopardizing its winning chance. Sound familiar?
If you look at Arsenal's records, you'll notice the club used to be the top 2 in Premier League, right before it started to build Emirates Stadium to compete with its major competitor at the time Manchester United. The £390mn-cost construction took place from 2004 to 2006. Arsenal had to repay Royal Bank of Scotland and subsequent bond holders til 2031, causing heavy debts and therefore shallow pocket when doing player transfer.
Arsenal paid off most of the debts by 2010. The club could finally spend some dimes on good players and climbed up to the ranked ladder. Despite club manager Arsène Wenger received quite some criticisms during the time, the stadium seemed like a good investment in the long term.
Way out for Messi and Barcelona?
Back to our Messi story. I'm not expert, but I couldn't help but wonder what could have been done to avoid the seemly quadruple loss today?
The main issue is funding. From a fan's angle, various options could save the day: CVC can offer more favorable terms to the clubs, La Liga can find a billionaire businessman to make counter offer, or Barcelona can persuade legacy players to leave willingly in exchange of support during transition.
Who knows, maybe one of them will be willing to take a step back for the bigger picture. My only wish is for Messi to win another trophy until retirement, either with Barcelona for UEFA championship, or with team Argentina for 2022 Qatar World Cup). Let Messi be the captain for a great team and make history again!
Finally, sharing a video from Barcelona which was originally made to celebrate Messi's new contract with the club.
---
If you like my article, feel free to give me a clap below or follow my account. If you are a fellow "Messi" fan, don't be shy to leave your comments too! This is my first case study sharing, more stories will be shared here. What's more, you can always give me some "Likes" if you are a Liker on Liker Land.
Liker Land is a place where you can register for free to be a "Liker" and support content creators. Without the intervention of mass corporate ads, this blockchain application is a great invention to support individual creators. If you're already onboard, welcome to show your support via the link below.
Like my work?
Don't forget to support or like, so I know you are with me..